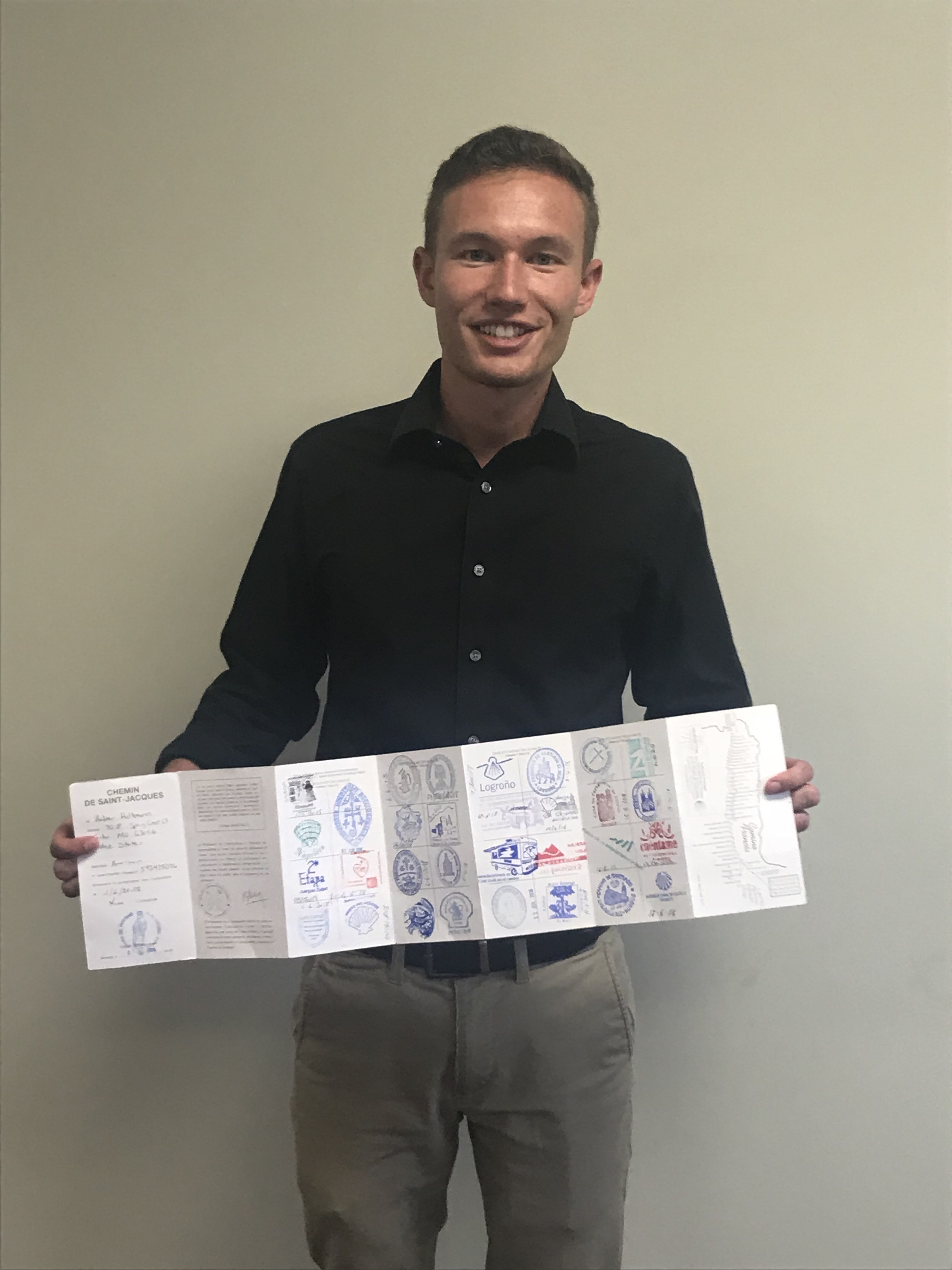 Drew's Speech Script on Crossing Frontiers
Our school theme for our bicentennial is crossing frontiers and so last school year, when we began our bicentennial, we remembered the frontiers that our foundress Rose Philippine Duchesne crossed. We know she moved from France to the new world and we know she ventured further into the American frontier to serve the Pottawattamie.
This year we remember why. Whenever St. Rose Philippine crossed into a new land or started a new school, she had a mission, she had a purpose. In every frontier she crossed, love was her mission.
I want to highlight the ending of our second reading. "If God so loved us, we also must love one another. No one has ever seen God. Yet, if we love one another, God remains in us, and his love is brought to perfection in us."
This summer because of a generous travel scholarship, I had the opportunity to literally cross a frontier and along the way I met a lot of people who made love their mission. Starting in June I spent a full month walking 500 miles across Spain on an ancient pilgrimage called the Camino. I started on the French border and walked about 7 hours each day, slowly working my way west to a city called Santiago de Compostella.
The month I spent abroad was both the most wonderful and the most difficult time of my life. The first three days were absolutely perfect. The views were fantastic, the churches were spectacular, and the food was plentiful. I soaked in the history of Pamplona, a walled city best known for the running of the bulls, but also once the home of my favorite saint, Ignatius of Loyola. And the people I met were kind; One morning, I even met an RSCJ.
Yes, I had hiked the first 50 miles and finished the first leg of the journey. I loved the Camino.
But then came day four. Fasciitis quickly set in that afternoon. Every step brought on more and more pain. My foot swelled beyond what my hiking shoe could hold. While everyone I had met pressed on, I was stuck and ended the day a whole 10 miles short of my goal in a town that was so small it didn't even have a pharmacy.
That night, I was in pain and I was alone. I did not love the Camino.
I slowed my pace the next few days, but the pain got worse. Each day I tried a new medication or insert, but nothing brought relief. It was day six when I stopped for lunch and connected to the bar's wifi. I had about a dozen missed calls from my parents. And then I listen to the eighteen-second long voicemail from my brother letting me know that last evening grandma had died very suddenly. I call and call but with the time change, no one's awake over here in the States, so I just sit at that empty restaurant and cry.
My spirit imploded and grief overwhelmed my entire body. Not to mention, my foot still felt like it was doused in gasoline and set on fire. At that moment, I was alone and suffering from all types of pain. I hated the Camino. I wanted to quit the Camino, but I still had more than 400 miles to go.
Now the Camino is usually a pretty social trail. It's not unusual for random strangers to strike up a conversation with you while you walk and it's fairly common to run into the same people over and over again. So I'm sitting there crying outside a restaurant and Alex and Alexandra, a father-daughter duo I met two days before, walk up. But I wipe away my tears, and although they knew something was happening, I tell them I'm fine and that I'll see them in the next town. I leave the restaurant and continue through the village and stumble upon a church. I thought that might be a good place for privacy so I head in. But as I get to the doors, Rex and Jose, two retirees who I met on day two are walking out. Tears are streaming down my face at this point so there's no hiding it this time, but still I tell them that they caught me in a bad moment and that I'll catch them later.
In a span of five minutes, I pushed away four people who would have been there for me. In hindsight, I know they would've listened to me, I know they would have sat with me, and I know that Rex and Jose would've even prayed with me. At that point, those people were nearly strangers to me, but that didn't matter to them. They were ready to comfort me because love was their mission. Love runs throughout the Camino. And at the time, I pushed them away.
So that can be the challenge. If you really want to say love is your mission, you have to allow yourself to be loved. In your brokenness, in your pain and heartbreak, and in your tears and snot, give others the opportunity to make love their mission.
I continued to push people away for a few days, but in time, I learned to be vulnerable. I listened to other people's stories. From those stories, I learned that I wasn't the only one on the Camino who had recently lost a loved one. I wasn't the only one who walked in pain every day.
So as I listened to stories from strangers, stories of heartbreak, loss, broken relationships, or grief, I became more and more willing to talk about my own story. The kindness and comfort I witnessed from strangers during my time of loss will stay with me for the rest of my life. I started trusting in the Camino again.
I was Skyped into my grandma's funeral about fifty miles before the halfway point. After laying her to rest and resting my injury a few days, I began to heal. The rest of the hike, I became more aware of the generosity I encountered from virtual strangers who made love their mission. The volunteers who managed parish hostels full-time for two weeks. The unpaid chefs who cooked dinner for hungry pilgrims night after the night. The Dutch man who picked up a 250 Euro dinner bill for a group of seven he met an hour before.
Love surrounded me on the Camino when I opened my eyes to it. Even from strangers, little acts of love revealed God to me. And it didn't take long for me to love the Camino again.
After a month I made it to Santiago's cathedral – the final destination for most pilgrims said to contain the relics of St. James. It was never about making it to the cathedral though. It was always about the journey to get there.
So anyway, as we cross frontiers into a new school year, I invite you to do two things. One, open yourself up, be vulnerable, and allow yourself to be loved by your classmates, teachers, and even your parents. Second, love generously, however and whenever you can.